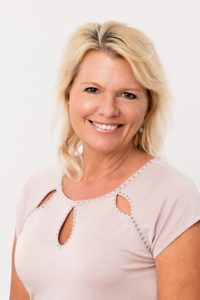 Theresa is originally from Colorado and moved to Florida in 2009. While in Florida, she has primarily worked for financial organizations with a specialty in office management. Most recently, Theresa was the Office and Finance Manager of The Central Palm Beach County Chamber of Commerce. Prior to that, Theresa was the Office Manager for an apartment complex and kitchen and bath renovation store. In both positions, Theresa managed and supervised accounting procedures, online client communication, and social media efforts. Theresa possess a variety of financial analysis and reporting expertise, as well as managerial and organizational project management platforms, channel marketing and event coordination, and operational efficacies.
When asked, Theresa says that she get the most satisfaction from assisting clients with projects from start to completion, and creating an organized and satisfying, team-oriented work environment. One of her most successful client satisfaction experiences came from a long-time member of the Chamber. She contacted Theresa as she felt she was no longer plugged in to the ever-changing business world and no longer felt the Chamber helped her business. After their initial meeting, they compiled a grassroots approach to marketing her business which would expose her to the aspects of the Chamber she could utilize that met her needs. After implementing the suggested solutions, she felt that Chamber was in fact a benefit for her company and as such, remained a member. Theresa is a wonderful asset to P.T. Anderson as she has an acute attention to detail and client relations, efficient work systems, and strong computer proficiency.
Theresa is a certified Paddle Board Instructor and when not in the office, she tries to get out on the water as much as possible. Her other passion is environmental and marine mammal conservation. Theresa is also a certified Marine Mammal stranding first-responder, and she volunteers for environmental and marine mammal conservation and educational nonprofit organizations during her free time.